Tax Consequences Following A Disaster
Thank you for your interest in our White Paper, The Process Of Recovery: Income Tax Consequences Of A Disaster.
To download your free copy of a PDF version of The Process Of Recovery, please fill in the form below.
NOTE: We respect your privacy and never offer your email address or other information to other parties. The only email you will receive from us is a Thank You for requesting the information.
In addition, we gather the Name of the Event, FEMA number and Date of Loss only for statistical purposes. This information is not required to download the White Paper, but providing the information helps us better serve those recovering from disaster.
Yours truly – John Trapani, CPA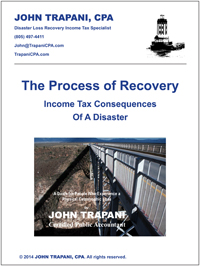 "The Process of Recovery"