News & Advice From a Leading Thousand Oaks CPA
Were you affected by the Rocky, Jerusalem or Valley fires?
I will be speaking to residents at the Middeltwon Twin Pines Casino Event Center, and at the Lakeport City Hall Council Chambers. Local community leaders, realtors, personal finance professionals and income tax professionals are also encouraged to attend.
See the flyer for dates and locations.
— John Trapani, CPA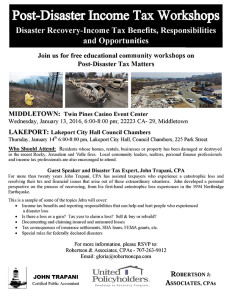 Categorized under: Advice For Appraisers, Disaster Tax Services

January 10, 2016