Free Resources From One Of Thousand Oaks' Leading CPAs
Your home is your most important asset and maybe your most valuable asset. When you add the components of shelter and a place where many of your family memories are created, nothing compares. Disasters occur worldwide, hurricanes, earthquakes, fires, tsunamis and volcanic eruptions will not cease. We cannot control nature. It is important to prepare for the physical safety and recovery of yourself and your family. It is also important to be prepared for the recovery process.
The realization on the faces of people in the aftermath of a catastrophe tells it all. Their preparation overlooked the financial basics. It is possible that you live in an area that will not burn, experience flooding or have damage from an earthquake, hurricane or tornado. But, it is also possible that you will experience peripheral affects of a sudden event. The facts continually demonstrate that we cannot predict all the geographic areas of risk. Homeowners in southern California, all of sudden, without any warning experience their homes sliding down a hill.
Ultimately, we are all subject to risks. Preparation for recovery includes a process of substantiation of the financial aspects of assets that will be lost. That process does not take a lot of effort in advance, but is often daunting when attempted after an event when the original information has been destroyed and other basic needs and requirements are more urgent.
The details of your tax and financial situation and plans for the future are important. When a catastrophic event strikes, you are placed in a situation that you may never have experienced before, and hopefully, will never have to face again. I have experienced some of these situations and assisted a number people in their recovery process.
The material in this document has been prepared to assist you in the process of preparing for a possible catastrophic event and responding to the event and recovering after the event. Preparation and planning will speed your recovery.
Two Great Resources In One PDF — Free
To download your free copy of a PDF that contains both the Disaster Preparedness Toolkit and Disaster Preparedness Outline, please fill in the form below.
"Disaster Preparedness Toolkit"
Preparation and Preparedness Kit Contents
Document Security
Post-Disaster Procedures and Preparedness Testing (Family Drill)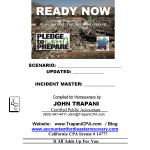 "Disaster Preparedness Outline"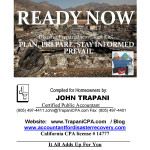 NOTE: We respect your privacy and never offer your email address or other information to other parties.
Yours truly – John Trapani, CPA
Categorized under: Following A Disaster

July 22, 2015