News & Advice From A Leading Westlake Village CPA
Are you an appraiser, CPA, attorney or other finance professional who advises individuals and businesses about IRS Casualty Losses?
I will be speaking to tax professionals and appraisers on January 13, 2016 at Marymount College, Lucerne campus about post-diasaster tax matters.  — John Trapani, CPA
Download the flyer for more information.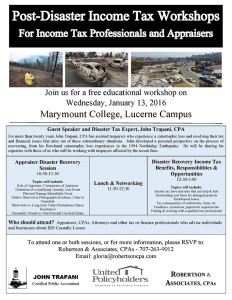 Categorized under: Advice For Appraisers, Disaster Tax Services

January 10, 2016